Amplifiers & Mixers
Showing 10–11 of 11 results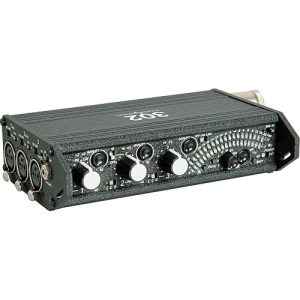 SOUND DEVICES 302 MIXER
The Sound Devices 302 is the most compact and cost-effective, battery-powered, professional audio mixer in its class. This no-nonsense, rugged little mixer features three exceptionally quiet mic preamps and balanced transformers to perfectly handle very low frequencies. With important features to accommodate nearly any over-the-shoulder production, the 302 interfaces with wireless transmitters and receivers, camera audio inputs of all kinds, and external audio recorders. Its microphone inputs share the same superb circuitry as the 552 Portable Production Mixer and MixPre-D Compact Field Mixer. Like Sound Devices larger 552 Field Mixer, the 302 is a complete Field Mixer, but designed in a super-compact package. Controls are accessible on its three main surfaces, its high-efficiency power circuitry runs the mixer from either three internal AA batteries or external 5-18 VDC.
Lundahl transformer-balanced mic or line level inputs on XLR connectors Continuously adjustable input trim Two-position high-pass filter Pan switches. Limiters on inputs and outputs Stereo and MS linking of channel 1 and 2
PRODUCT MANUAL
Read more
Sonifex RB-DA6 Distribution Amp
The RB-DA6 is a 1U rack-mount high performance 6 way stereo distribution amplifier for splitting a source into a number of different outputs. The RB-DA6 has 1 stereo input and 6 stereo outputs. It can also be configured so that 1 mono input can be distributed to 12 outputs by use of a switch which is recessed on the front panel to prevent it being accidentally knocked. The XLR-3 inputs and outputs are electronically balanced and can be wired unbalanced. Each output is individually buffered so that a short circuit on one output won't affect the others.The left and right input gain controls (normalising) are pre-set potentiometers accessible through the front panel. The output gain may be varied from -8dB to 18dB which is useful for normalising consumer and professional signals to give outputs of -15dBu and 0dBu respectively.
PRODUCT MANUAL
Read more