Aja FIDO 12G Dual Channel
AJA FiDO-T-12G (FiDOT12G) 1-Channel 12G-SDI Single-Mode LC Fibre Transmitter. FiDO-T-12G offers unmatched flexibility and cost efficiency for 12G/3G/HD/SD-SDI Fibre conversion, allowing for cable runs up to 10 km (32,808 ft) over standard single-mode fibre optic cable. FiDO converters use a compact, low-profile enclosure that works well in tight spaces around and behind equipment racks, trucks and on camera.
Related products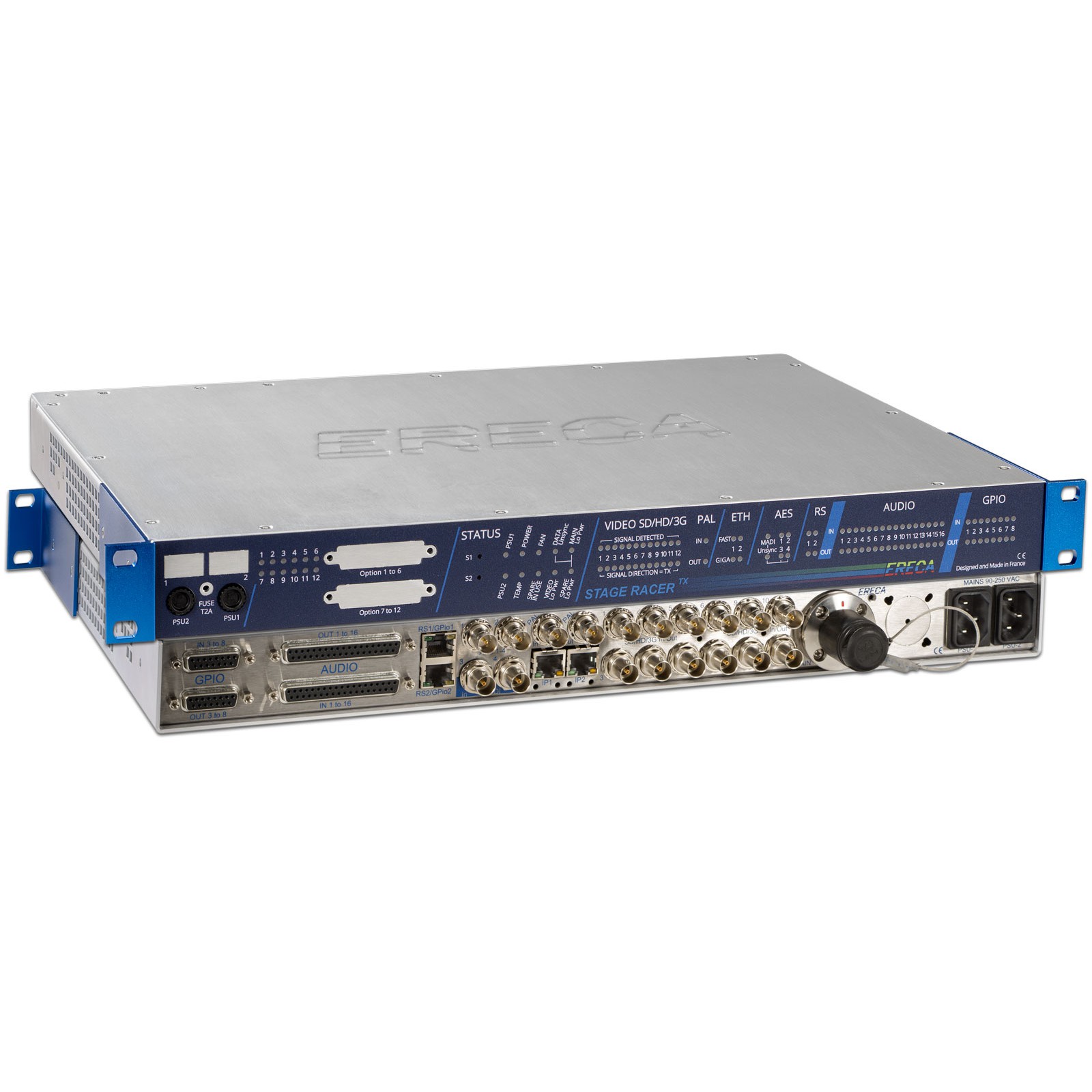 Ereca Stage Racer
The Stage Racer product line is an ultra flexible solution to connect a stage to an OB VAN. With the ERECA unique feature for on the fly direction configurable 3G-SDI channels and the numerous commodities signal transmitted along the videos, the stage racer is the product of choice for an affordable fast and easy event deployment. All our Stage Racers are built in to bespoke 6U racks to utilise all signal functionality. The equipment assumes transmission of a comprehensive set of signals as follows:
8 or 12 x video 3G / HD / SDI signals (direction configurable through built in web server), 1 x Genlock bidirectional (PAL image / Black burst / Tri-level), 16 x analog audio for intercom or broadcasting, 8 x Microphone pre-amp blocks 2 x Ethernet 10/100/1000Mbs (1 Gigabit trunk with 2 VLANS), 4 x Data RS 232/422/485, 8 x Contact closures. 4 x AES 3 bidirectional (Riedel panel compatible) 1 x bidirectional MADI (AES10) Signal (Shared with 2 of the 4 AES connectors).
For flexible setup the mechanical is declined in a 1U rack which fits everywhere and in a very rugged compact die cast aluminum box. This latter enclosure ensures excellent shock/drop protection along with dust and water resistant capacity for all "no fly case" applications. Links can be built between racks, rugged boxes or rack and rugged box. All the signals are transmitted on 2 singlemode fibers. As an option, an optical cable failover is built inside the modules by adding a second connector. In case of fiber break the equipment automatically select the other cable.
PRODUCT MANUAL
Read more