K & M 259 Low Mic Stand
Short microphone booms stand by K&M The 25910 provides good stability with three folding legs, which measure 230mm centre to foot. Height 180mm.
Also suitable for low settings
Height is adjustable from 425 to 645 mm
Die-cast base with folding legs
Comes with telescopic boom arm
Related products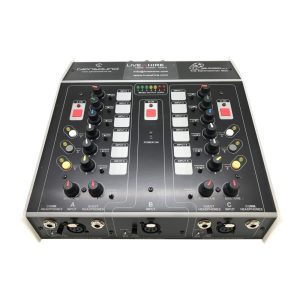 Glensound CU001-G Comms Kit
The GS-CU001G MkII is a highly versatile commentary unit. It was designed after close consultation with end users and the result is a stand alone unit which offers a wide range of facilities, and it is equally at home on the terraces, as it is in a studio.
3 individual inputs for each headphone amp 1 extra audio input into the headphone amps Full size side tone pot on top panel Positions for 3 commentators 3 x mic/line inputs with 48v phantom power Individual outputs plus a mixed output 5 external inputs for monitoring plus sidetone 3 common talkback outputs with Config+ push buttons Electronically balanced inputs and outputs
The kit comes as standard with:
2 x Sennheiser HMD26-II Headsets 2 x Coles 4104 Lip Mics 1 x 16-Way Audio Loom
PRODUCT MANUAL
Read more