Sennheiser MKH8070
Long shotgun microphone. Ideal for major broadcast and sporting events. Extreme directivity, reliably capturing distant sounds even under the toughest sonic and climatic conditions. Extremely weather-proof. The successor to the Sennheiser 816.
Lobar Pickup
High Directivity
Symmetrical RF Transducer
Excellent Transient Response
Reliable under Tough Conditions
Can Interface with Digital Systems
Related products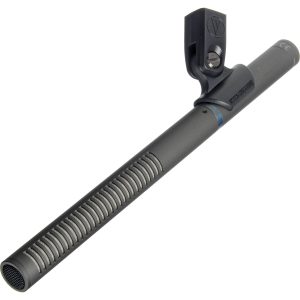 Audio Technica BP4029
The BP4029 replaced the Audio Technica AT835ST This lightweight stereo shotgun is 'engineered for high-end broadcast and production use' and finished in black. With independent line-cardioid and figure-of-eight elements configured in an MS (Mid-Side) arrangement with switch-selectable internal matrixing, this design offers the choice of selecting a left-right stereo output, wide or narrow, or discrete Mid-Side signals for later manipulation. A switch provides a low-frequency roll-off filter, 80Hz, 12 dB/octave.
Designed for broadcasters, videographers and sound recordists Compact, lightweight design is perfect for camera-mount use Independent Line-cardioid and Figure-of-eight condenser elements Switchable low-frequency roll-off
PRODUCT MANUAL
Read more