Telecast Python 4/4 4K
The Python 3G is your answer to lowering the cost of digital video distribution, simplifying your cable plant and eliminating all concerns about distance, interference and grounding. The Python 3G converts up to two groups of 8-channels of HD-SDI to fiber optic transport, all in a compact 1 RU frame.
4 bi-directional channels per 1 RU
Wide range of digital formats
19.4 Mb/s to 3 Gb/s transport
Handles DVB/ASI signals
Immune to pathological data errors
Equalizes coax up to 3 Gb/s
CWDM multiplexing options
Compatible with other Grass Valley HD/SD-SDI transport systems
Related products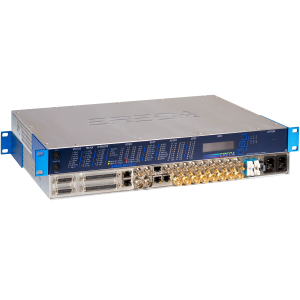 Ereca Stageracer 2
The Stage Racer 2 is a complete optical fiber transmission solution for every broadcast event ranging from simple OB interconnect to complex star, ring or linear topology spread over a whole TV compound. Remote production capacity also allows the exchange of content with distant locations. The Stage Racer 2 is designed to accept all kinds of signals on the same device without external adapter. Internally those signals can be grouped/routed/distributed to all other machines of the network. Only 2 fibers connected directly on the unit are needed to get full transport capacity. The Stage Racer 2 also offers processing capabilities with Frame buffering, Audio Embedding/Deembedding, Audio SRC and much more…. The Stage Racer 2 setup is provided with an easy to use web interface or with automation systems (VSM…) Each unit is capable of transmitting a comprehensive set of signals as follows: 16 SD to 3G bidirectional ports (direction configurable) 8 SD to 12G bidirectional ports (direction configurable) 1 Distributed Genlock (Composite video / Black burst / Tri-level) 16 Bidirectional analog audio for intercom or programme 2 Ethernet 10/100/1000Mbs 2 Data RS 232/422/485 8 Contact closures 4 AES 3 bidirectional (intercom panel compatible) 1 Bidirectional MADI (AES10) Signal (Shared with 2 of the 4 AES connectors) 1 Built in Dante / AES67 audio port with 64 channels support.
Read more