Sony RCP-1500
The RCP-1500 remote control panel incorporates an LCD display with direct operation switches and a touch panel, which makes it a remote control panel that offers both ease of operation and multi-functionality that compares favorably with the MSU. The iris and master black adjustment block employs joystick type control. Up to four units can be mounted in a 19-inch EIA rack.
Related products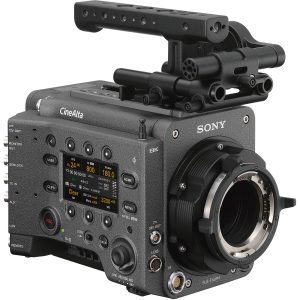 Sony Venice-2 8K Camera
eaturing an impressive 16-stop dynamic range, internal recording onto a high-speed ASX card, internal recording formats up to ProRes 4K 4444 and 422, and an interchangeable sensor with updated usability and body design, the 8K Sony VENICE 2 Digital Motion Picture Camera is a step up for DPs, camera assistants, colorists, VR, and VFX departments thanks to its high-resolution capture and filmlike imagery. The 8.6K VENICE 2 can shoot and record 8.6K footage at 30 fps and 8.2K in either 17:9 or 16:9 at up to 60 fps. Its sensor raises the camera's dual-range base ISO to an impressive 800/3200 for cleaner images in a variety of situations. The 8.6K sensor can be swapped with the 6K sensor from the original VENICE to allow for higher frame recording with the original camera. As with the original VENICE, the VENICE 2 comes with a removable PL Mount that supports the Cooke /i Technology lens metadata protocols, allowing you to work with cinema-style glass ranging from vintage to modern. Remove the PL Mount to reveal a Sony E-Mount, to accept native E-mount lenses. Eight integrated and motorized ND filters range from clear to eight stops of ND in one-stop increments.
Read more