Sony RCP-3500
The RCP-3500 remote control panel incorporates a brighter LCD display with direct operation switches and a touch panel, visibility improved by higher resolution and brighter LCD device which makes it a remote-control panel that offers both ease of operation and multi-functionality that compares favorably with the MSU. The iris and master black adjustment block employs joystick type control. Up to four units can be mounted in a 19-inch EIA rack.
Related products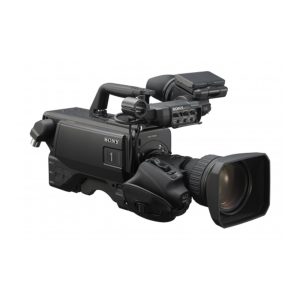 Sony HDC-3500 Camera Channel
The HDC-3500 system camera brings new levels of image quality, portability and creative flexibility to live production environments. Enjoy premium 4K/HD/HDR picture quality – and anticipate tomorrow's production needs while maintaining full compatibility with today's workflows and system hardware. Capture premium pictures with the world's first 2/3-inch 4K CMOS sensor with global shutter technology that eliminates the 'jello effect' and banding noise. This allows the HDC-3500 to capture pristine images with 4K high resolution (2000TVL), exceptionally low noise (-62dB), impressive sensitivity (F10 at 1080/59.94p or F11 at 1080/50p) and high dynamic range, while achieving the ITU-R BT.2020 broadcast standard wide colour space. It's teamed with a specially developed LSI Digital Signal Processor that fully realises the extraordinary imaging power of this new sensor. Broaden your creative possibilities and achieve exactly the look you want in any shooting situation. Low-key Saturation ensures rich, vibrant colours in low-light areas. Powerful gamma functions give absolute control over fine-tuning tonal values, contrast and detail. The HDC-3500 can capture High Dynamic Range images, supporting Sony's SR Live workflow for simultaneous HDR/SDR production with reduced inventory requirements.
Complete Channel With:
IP/SDI Board 4K License Ember+ HDCU-3500 HDVF-EL75 Viewfinder HDVF Monocular 3500 RCP Camera Rain Cover Camera Shoe Viewfinder Hood
Read more