TV Logic LUM-242H Monitor
The LUM-242H is a 24 inch monitor with UHD resolution (3840 x 2160), high luminance up to 1,000cd/㎡, a 10-bit color depth, high contrast ratio of 1,000 : 1 and wide viewing angle. The LUM-242H supports various standard color gamuts including 90% DCI-P3 coverage. It supports 12G-SDI signal with 4 BNC input connectors (2 for 12G-SDI and 2 for 3G-SDI) and an HDMI 2.0 input.
Related products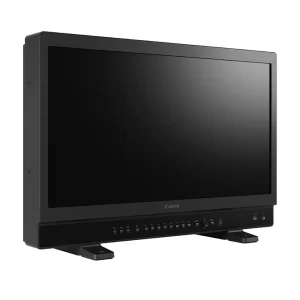 Canon DP-V2411 HDR Monitor
The Canon DP-V2411 24" 4K Reference Display features image quality and tool sets designed to aid your HDR productions. The monitor, with its 4096 x 2160 native resolution, is suitable for colorists, cinematographers, and DITs as it is at home on SDR productions, with its standard 100 cd/m² brightness levels, as well as HDR productions with its peak 1000 cd/m² brightness. It supports 12G-SDI and has four BNC inputs and four BNC loopthrough outputs, as well as an HDMI input. The monitor displays a 4K image from any one of its inputs, or you can create a dual view from a single input. You can also input an 8K image over the four 12G-SDI inputs, which the monitor will scale to 4K for display. The wide viewing area and anti-glare coating provide an image that can be viewed in less-than-ideal conditions and from off-axis without significantly compromising the image's contrast. The monitor supports ITU-R BT.709 as well as BT.2020. A LAN interface allows you to control the monitor's settings remotely. The monitor keeps cool using a fan and its aluminum frame as a heat sink. A built-in mode allows the monitor to automatically turn off its internal fan when a compatible camera is connected to the monitor and the camera is recording, which makes the monitor suitable for on-set as well as post-production work.
Read more