Bon BSM-183H High Bright Monitor
Designed for shooting outdoors and in other brightly lit conditions, the BON BSM-183H 18.5″ 3G/SD-SDI & HDMI High Brightness Field Monitor features a 1200 cd/m² daylight-viewable LCD screen. The high brightness preserves contrast and prevents the on-screen image from getting washed out. The 1366 x 768 LED-backlit LCD panel can display SD and HD signals from any of the HDMI, DVI, or analog video inputs. The two 3G-SDI inputs can handle up to 2K resolutions. SDI and analog looped outputs can be used to further route the incoming video. Onboard monitoring tools include waveform, vectorscope, and exposure range check for analyzing incoming video signals and adjusting exposure.
Related products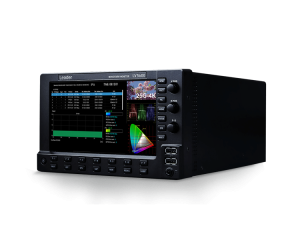 Leader LV5600 WF Monitor
The LV5600 is a 'True-Hybrid' waveform monitor compatible with 4K/HD/SD-SDI signals and UHDTV/HD/SD IP signals. The LV5600 features a 7-inch touch screen display in a compact 3 RU enclosure with built-in AC power supply, and supports a variety of SDI signals up to 12G-SDI as well as video over IP. The waveform, vector, picture, audio, and eye pattern displays enable simple yet comprehensive measurements and quality control of the widest range of audio and video formats. The status display allows you to assess errors and system stability with both event logs and long-term charts. For audio, these instruments support digitally embedded audio in SDI or IP streams as well as discreet digital and analog audio connections. Multi channel audio levels, Lissajous, status, and loudness displays are available. With its combination of touch screen, dedicated buttons and knobs, and user-defined screen layouts the LV5600 allows complex measurement and monitoring tasks to be quickly completed. Designed with the future in mind, the LV5600 addresses your current and evolving video and audio testing needs.
Read more