Fujinon Cabrio 19-90mm PL Lens
Offering a wide to telephoto zoom coverage, the Fujinon Cabrio ZK4.7×19 19-90mm T2.9 Lens with PL mount delivers 4K optical performance in a compact design. It also features an exclusive detachable servo drive unit with zoom rocker switch, making it suitable for use as a standard PL lens or as an ENG-Style lens.
Related products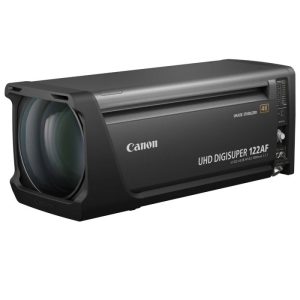 Canon UJ122 4K Lens
Canon UJ122x8.2B IESD UHD Digisuper 122x 4K Broadcast Lens canon-uhd-digisuper-122-lens / UJ122X8.2B AF. Canon's new 4K Premium field lens boast the finest optomechanical design in the world with image stabilised 122x. It offers superior optical technology for HDR broadcast and share connectors and protocols with other Canon HD broadcast lenses, so it's easy to integrate it into existing environments. A a new 2/3" UHDxs 25x zoom has also been launched offering high resolution 4K performance right across the screen while new zoom and focus demands with built-in display bring even greater control to your fingertips. 4K Premium optical quality for highly detailed images. To help reduce focus fluctuation and ensure the delivery of exceptionally detailed 4K images, a floating inner focus system in Canon's field lenses has been developed to control focus fluctuation and improve resolution right across the screen.
Read more