Panasonic AW-RP60 Controller
The all-new AW-RP60 Remote Camera Controller. Equipped with a large LCD to display a GUI menu screen with clear visibility and an improved joystick for smoother control, this controller is compatible with all current Panasonic PTZ models. Thanks to the improved GUI, now all important information about the cameras, such as iris, zoom and focus can be seen at all times directly on the screen. The AW-RP60 is also capable of supporting up to 200 cameras in 20 groups, manages 100 presets and comes with PoE support allowing for an easy integration.
Equipped with a 3.5-type LCD screen
New Joystick with enhanced operability
Flexible customisation features
PoE2 support/Advanced camera adjustment
Related products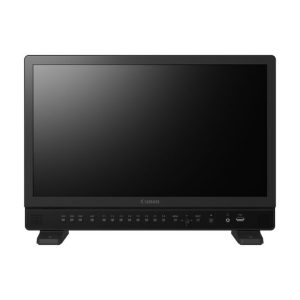 Canon DP-V1830 HDR Monitor
Maintain a consistent reference throughout production and postproduction as you shoot and/or monitor 4K with this 18.4" Canon DP-V1830 UHD 4K Reference Display rack-mountable monitor, which can also be used as a portable studio or location monitor. This reference display is ideal for broadcast and cine-style video productions that monitor in up to 4K. The monitor supports 12G-SDI and has 4 x BNC inputs and 4 x BNC loop through outputs as well as 1 x HDMI input. It features a panel with a native resolution of 3840 x 2160 that displays UHD 4K natively, while providing two options for displaying 4K DCI. The monitor supports SDR as well as HDR for display and has a nifty SDR/HDR split-screen function, so you can do an on-set compare of your footage. The LED panel is consistent with other models in the Canon reference display line, which allows you to trust your image will display consistently from monitor to monitor as your production moves through the production/postproduction pipeline. Combining a peak brightness of 1000 cd/m² with Canon's backlight control allows the monitor to reach a contrast ratio of 1,000,000:1 with right un-clipped whites, and deep blacks.
Read more