Telecast SHED Passive
Passive version of the Telecast SHED allowing for the conversion from a LEMO SMPTE connector to ST tactical one.
Related products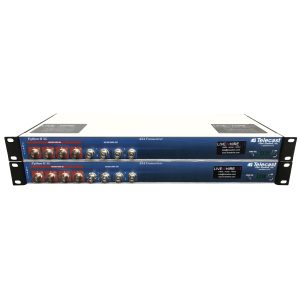 Telecast Python 4/4 4K
The Python 3G is your answer to lowering the cost of digital video distribution, simplifying your cable plant and eliminating all concerns about distance, interference and grounding. The Python 3G converts up to two groups of 8-channels of HD-SDI to fiber optic transport, all in a compact 1 RU frame.
4 bi-directional channels per 1 RU Wide range of digital formats 19.4 Mb/s to 3 Gb/s transport Handles DVB/ASI signals Immune to pathological data errors Equalizes coax up to 3 Gb/s CWDM multiplexing options Compatible with other Grass Valley HD/SD-SDI transport systems
PRODUCT MANUAL
Read more