Telecast Rattler 4K
The Telecast Series' unique Rattler 4 miniature fiber optic serial digital video transmission modules from Grass Valley, a Belden Brand, offer the industry's broadest range of digital rates while maintaining the signal quality that broadcasters demand.
Portable, lightweight devices
19.4 Mb/s to 3 Gb/s
Standard formats internally reclocked: 270 Mb/s, 1.5 Gb/s and 3 Gb/s
18 CWDM wavelengths
Up to 50 km (31 mi.) distance
Supports embedded audio
Power from 5-16 VDC
Related products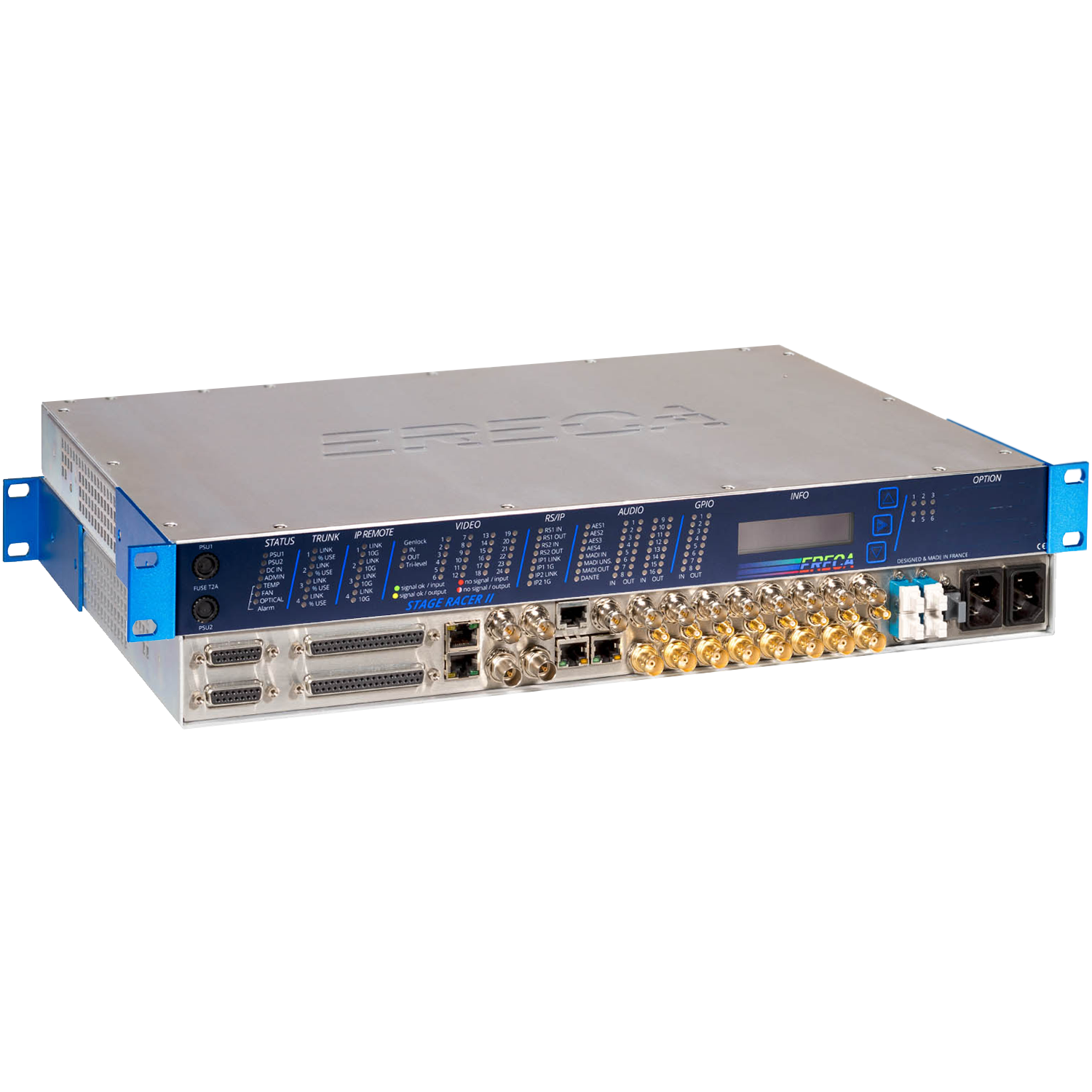 Ereca Stageracer 2
The Stage Racer 2 is a complete optical fiber transmission solution for every broadcast event ranging from simple OB interconnect to complex star, ring or linear topology spread over a whole TV compound. Remote production capacity also allows the exchange of content with distant locations. The Stage Racer 2 is designed to accept all kinds of signals on the same device without external adapter. Internally those signals can be grouped/routed/distributed to all other machines of the network. Only 2 fibers connected directly on the unit are needed to get full transport capacity. The Stage Racer 2 also offers processing capabilities with Frame buffering, Audio Embedding/Deembedding, Audio SRC and much more…. The Stage Racer 2 setup is provided with an easy to use web interface or with automation systems (VSM…) Each unit is capable of transmitting a comprehensive set of signals as follows: 16 SD to 3G bidirectional ports (direction configurable) 8 SD to 12G bidirectional ports (direction configurable) 1 Distributed Genlock (Composite video / Black burst / Tri-level) 16 Bidirectional analog audio for intercom or programme 2 Ethernet 10/100/1000Mbs 2 Data RS 232/422/485 8 Contact closures 4 AES 3 bidirectional (intercom panel compatible) 1 Bidirectional MADI (AES10) Signal (Shared with 2 of the 4 AES connectors) 1 Built in Dante / AES67 audio port with 64 channels support.
Read more